Introducing 6 content packed WeChat workshops as part of the CHat Shanghai Conference this September 1st & 2nd. Learn all the essentials of using WeChat to grow your business from the expert professionals and industry KOLs.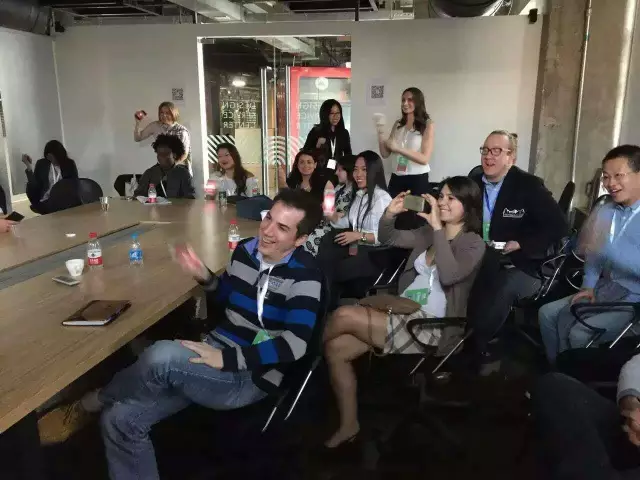 Workshop attendees at CHat Beijing
Read on to find out more information and register today for RMB388 per workshop.
SEPTEMBER 1ST (DAY 1)
10-12pm
3 WORKSHOPS (A, B, C) RUNNNING CONCURRENTLY
WORKSHOP A

THOMAS GRAZIANI
CO-FOUNDER OF WALKTHECHAT



KEY TACTICS TO GENERATE TRAFFIC AND INCREASE CONVERSION FOR YOUR WECHAT SHOP
Drive Qualified Traffic

to Your WeChat Account

Key Opinion Leaders

and how to find them

Cost-per-click marketing

Guerilla marketing strategies on WeChat and viral campaigns
This workshop is meant for managers of WeChat shopslooking for more efficient ways to drive qualified traffic to their WeChat account or store.
WORKSHOP B

SHENG PANG
FOUNDER & CEO OF JUPLUS INTERACTIVE TECHNOLOGY

BEST PRACTICES USING WECHAT FOR EVENTS
Are you an event organizer? Do you find organizing a successful event to be challengin and exhausting? Without the right tools, it could also be a labor-intensive job.
This workshop will introduce Wechat tools that are available for organizers to utilize before, during and after their event to increase efficiency, audience engagement, and streamline procedure.
Prior: Wechat invitation, Online registration and payment, event promotion
During: Wechat check-in, live Q&A, Live broadcasting, interactive gamification, forum, survey
After: post event survey, Wechat group networking, official account push messages, online on-demand event replay
WORKSHOP C

RAFAEL JIMENEZ
BUSINESS DEVELOPMENT ADVISOR AT EU EME CENTRE

DEVELOPING A WECHAT STRATEGY FOR YOUR SMALL BUSINESS
Are you running a small business in China? Do you use WeChat but want to learn how it can drive sales and expand your business further? Rafael will take a practical approach to introducing the legal, BD and market access essentials when exporting & setting up in China and how WeChat fits in to all this. Learn about:
Consumers: how to boost your conversion rate from followers to buyers;
Branding: how to position your brand, protect it and take control;
Entry modes: export, cross-border, setting up a WeChat shop;
Who does the distribution for your WeChat shop?
This workshop will go through example case studies and group exercises to engage all participants. Join this workshop and find the answer to:
How to use WeChat as an export tool;
How to generate demand for your brand and build your company strategy in China;
How long does it take and how much does all this cost?
Register for workshops here!
SEPTEMBER 2ND (DAY 2)
10-12pm
3 WORKSHOPS (A, B, C) RUNNNING CONCURRENTLY
WORKSHOP A

MARKETING BEST PRACTICES ON WECHAT
WeChat is a major communication channel for most businesses in China, but with the growing presence of brands on the app, competition for the user's attention is ever increasing. Plus, with new features added regularly, it is a struggle to understand and keep up with all the interaction possibilities Wechat is offering with your prospective and existing consumers. Participate to learn about:
Can Wechat be an efficient channel to attract consumers who know nothing about your brand?
Where is Wechat most effective for consumer interactions?
General principles to make the best out of your Wechat official account
WORKSHOP B

MICHAEL MICHELINI
SOCIAL MEDIA & E-COMMERCE SPECIALIST AT SHADSTONE LTD
LEVERAGING FREE TRADE ZONES FOR YOUR WECHAT SHOP
Selling in China with WeChat? Looking for better ways to optimize your logistics and operational flow? Free trade zones have been getting more and more popular, but many business owners still don't tap into the full power. In this workshop we will go over:
What exactly is a free trade zone

– a lot of people have been using this keyword, but what exactly is it? Why should you consider it, and when is it not the best for your business?

What are the benefits

– what are the financial, operational, and other benefits of basing your business in one of the FTZ (Free Trade Zones) of China.

What you need to take advantage of it

– Ok, so you're sold on the idea of leveraging a free trade zone for your business. How can you actually capitalize on it? Take action, what steps you need to take.

How to plug that into your wechat shop operational flow

– and staying to the theme of the CHat conference, how does this all tie into Wechat. How you can connect your Wechat shop to the logistics and operational flow of a FTZ.
WECHAT VS. WEIBO > SHOULD YOU BE INVESTING IN KOLS RIGHT NOW?
ESSCA School of Management, Shanghai invites you to a workshop on 'Increasing Return on Investment from Key Opinion Leaders in China' at Chat Shanghai, China's largest WeChat conference for the international community.
Focusing on the perspectives of brands, facilitators and communicators, this workshop makes you understand when to use WeChat and when to opt for Weibo to increase impact and reach.
The Brand >

How KOLs are becoming the most important digital marketing channel for companies in China.

The Facilitator >

How new market entrants can identify the right market segmentation and measure impact across different media

The Communicator >

How KOLs create appealing content that resonates with the community and allows for increased interaction
Key take aways include first hand insights on WeChat, Weibo as well as branding, communication, and customer loyalty in Asia.
Register for workshops here!
Workshops Location:
The Place, located at 457 Jumen Road, Unit 407, Bridge 8 Phase IV Huangpu District [上海市黄浦区局门路, 457 号 407 室,8 号桥 4 期]
Enquiries please contact:
Nichole Zuo
nicholezuo@chinachannel.co
Phone: 18701177353
WeChat ID: nickie-zuozuo
Matthew Brennan
mattbrennan@chinachannel.co
Phone: 18623515007
WeChat ID: Yowdy-CQ