Apple finally opened their first ever WeChat official account (OA) today. Read on to find out: How to find and use the account. Why it took Apple 5 YEARS to finally open their account and what this move says about their previously rocky relationship with WeChat's parent company Tencent.

Above: buying an iPhone with WeChat pay on the official Apple WeChat account
How do I find the Apple WeChat account?
You can find the Apple WeChat official account by simply searching for 'Apple' through WeChat search. Alternatively, go to the top right corner + icon > Add Contacts > Official Accounts and then search.
What can I do on the Apple WeChat account?
You can log in with your Apple ID and through the various menu items find and buy Apple products with WeChat pay.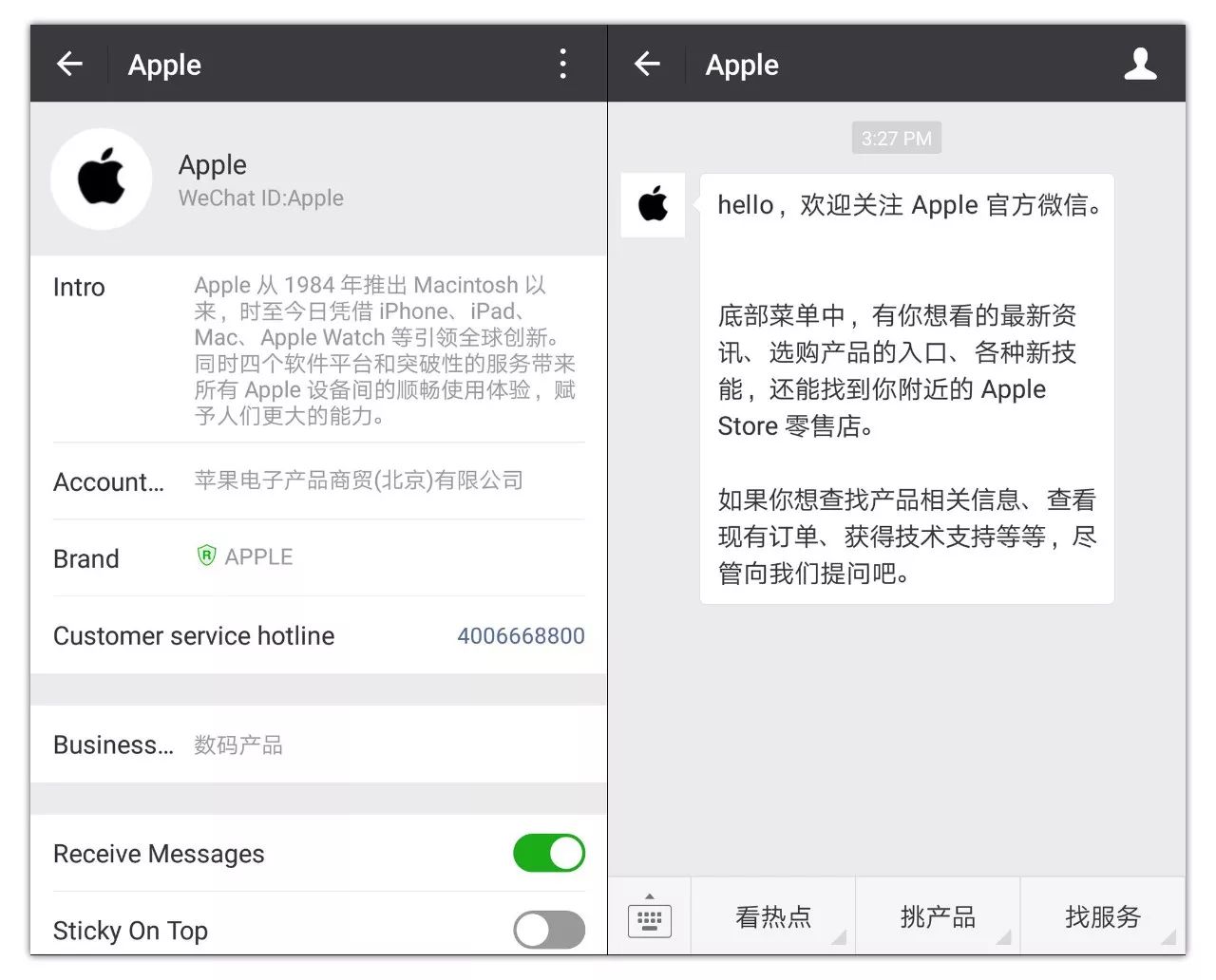 Alternatively, you can check your product warranty information or find your nearest Apple store. Pretty standard stuff.
Which other tech giants have WeChat accounts?
It's no exaggeration to say that virtually EVERY company of size in China has an official account. EvenTencent's bitter rivals Alibaba run several successful accounts for Taobao, Tmall and Alipay (see below).
In a previous article last year I took a look at which American tech giants have WeChat accounts. We found Microsoft, Google and Amazon well represented with many accounts.
But Facebook and Apple were lacking with no formal presence on the platform. For Facebook, it's not surprising that they wouldn't want to be on WeChat, as they are clearly competitors. For Apple, though the case is less clear.
What does Apple opening this account now mean?
Well, it's difficult to say exactly what prompted Apple to open up on WeChat (the company is notoriously secretive) but it would seem to be evidence of a warming relationship.
Above: Apple runs several accounts on Twitter
At one point last year it seemed that Apple and WeChat were in conflict over the WeChat tip jar feature that allows readers to tip content creators. The feature was shut down by Apple on iOS devices which cause much debate and bad press for Apple in China.
Above: WeChat's tip jar feature
Opening up on WeChat seems to be just one in the latest line of changes Apple has made to their local China strategy in 2017 with announcements of appointing a China head, moving data centers over to China, banning VPN apps from the app store and opening up China R&D centers.
Half a year ago many of the higher level management staff of Tencent including WeChat founder Allen Zhang made their way over to Apple headquarters in Cupertino California for meetings where they took this picture above which seems to indicate that the talks were friendly.
The next step?
Now that Apple has opened an official account on WeChat, what could be the next step? Well, perhaps theApp Store could make a great mini program 😉